Children Bestsellers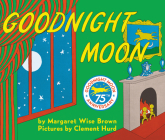 $8.99
ISBN: 9780694003617
Availability: Usually Ships in 1-5 Days
Published: HarperFestival - January 23rd, 2007
In a great green room, tucked away in bed, is a little bunny. "Goodnight room, goodnight moon." And to all the familiar things in the softly lit room—to the picture of the three little bears sitting on chairs, to the clocks and his socks, to the mittens and the kittens, to everything one by one—the little bunny says goodnight.
---

$10.99
ISBN: 9781595141880
Availability: Usually Ships in 1-5 Days
Published: Razorbill - June 14th, 2011
THE #1 NEW YORK TIMES AND INTERNATIONAL BESTSELLER

**THE BOOK THAT STARTED IT ALL, NOW A NETFLIX ORIGINAL SERIES**

"Eerie, beautiful, and devastating." —Chicago Tribune

"A stealthy hit with staying power. . . . thriller-like pacing." —The New York Times

---

$12.99
ISBN: 9780439023528
Availability: Usually Ships in 1-5 Days
Published: Scholastic Press - July 3rd, 2010
Now in paperback, the book no one can stop talking about . . .

In the ruins of a place once known as North America lies the nation of Panem, a shining Capitol surrounded by twelve outlying districts.

---
Upcoming Events
No upcoming events available
If a title is unavailable or out-of-print, we can search for it.
Although Novel Books tries to ensure the integrity and accurateness of content on this website, it makes no guarantees about the accuracy of prices and descriptions.