Owl Babies (Board Books)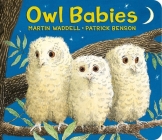 $6.99
Usually Ships in 1-5 Days
Description
---
A tender tale to remind the youngest of children that Mommy always comes back. "I want my mommy " Three baby owls awake one night to find their mother gone, and they can't help but wonder where she is. What is she doing? When will she be back? What scary things move all around them? Stunning illustrations from striking perspectives capture the anxious little owls as they worry. Not surprisingly, joyous flapping and dancing and bouncing greet the mother's return, lending a celebratory tone to the ending of this comforting tale. Never has the plight of young ones who miss their mother been so simply told or so beautifully rendered.
About the Author
---
Martin Waddell wanted Owl Babies to capture the "strong emotion of 'I want my mommy!'" that is so familiar to children. Martin Waddell is the author of more than one hundred books for young readers. He lives in England. Patrick Benson has won many awards for his illustrations, including the Mother Goose Award, the Christopher Award, and the Kurt Maschler Award. He has worked with such luminaries as Roald Dahl and Russell Hoban, and his picture book with Martin Waddell, Owl Babies, is a classic with more than 12 million copies in print. Patrick Benson lives in Scotland.
Upcoming Events
No upcoming events available
If a title is unavailable or out-of-print, we can search for it.
Although Novel Books tries to ensure the integrity and accurateness of content on this website, it makes no guarantees about the accuracy of prices and descriptions.