Spring Is Here (Paperback)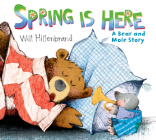 $7.99
Usually Ships in 1-5 Days
Description
---
Sniff. Sniff. Sniff. Spring is in the air. Mole can smell it. But Bear is still asleep after his long winter nap. How will Mole wake up Bear so they can celebrate together? When a knock, knock, knock and toot, toot, toot can't get Bear out of bed, Mole cooks up a special treat.
Spring fever is catching in this vibrant story of friendship.
Upcoming Events
No upcoming events available
If a title is unavailable or out-of-print, we can search for it.
Although Novel Books tries to ensure the integrity and accurateness of content on this website, it makes no guarantees about the accuracy of prices and descriptions.